Plant Spotlight – Shawnee Brave Bald Cypress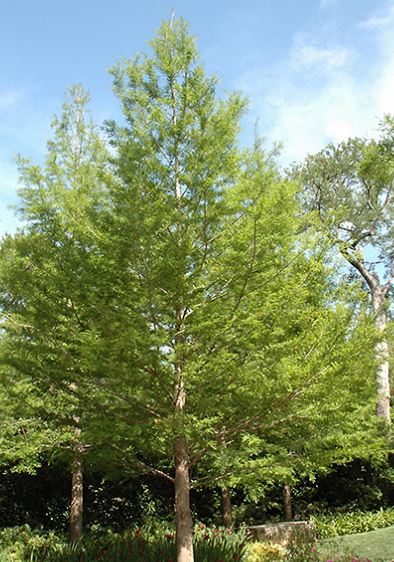 The Shawnee Brave Bald Cypress is a stately deciduous conifer but watch out! Unlike other conifers, it loses its needles every fall and grows a new set in the spring. This bald cypress is a large specimen tree, growing 50-70' tall with a 20-30' spread and a pyramidal growth habit. Soft, feathery needles turn russet-red in the autumn months before falling to the ground. Shawnee Brave thrives best in full sun environments and does well in zones 4 – 11. Shawnee Brave Bald Cypress has proven to be one of the best trees for both wet and dry soils alike. The specimen prefers acidic soils and may demonstrate chlorotic symptoms in higher pH (alkaline) soils.
This regal conifer, native to the Midwest, is often found in groupings in parks and larger spaces, along streets, and bodies of water, however it makes a magnificent landscape specimen, attracting birds and small wildlife as well as being showy in winter months with its fissured, peeling bark.
To inquire further about how All American can incorporate this beautiful specimen into your landscape, call the office at 402-408-0000.