Plant Spotlight – Kodiak Black Bush Honeysuckle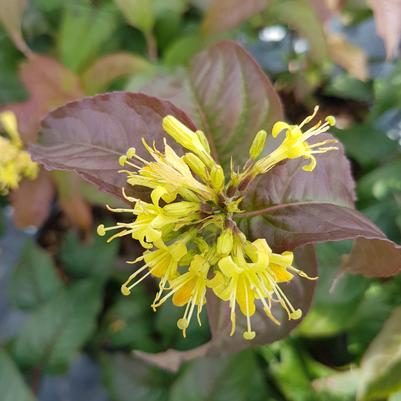 The Kodiak Black Bush Honeysuckle is a shrub that is deer-resistant, drought tolerant and colorful! Seriously? Unlike some other shrubs, this versatile plant has year-round interest with spring blooms, dramatic, black purple foliage, and vibrant fall color. The honeysuckle is a fairly petite shrub, growing 3-4' tall with a 3-4' spread and a mounding growth habit. Honeysuckle is never without clusters of yellow flowers in the summer months. Kodiak Black Bush Honeysuckle thrives is full sun to full shade and does well in zones 5 – 7. Kodiak Black has proven to be adaptable to most soils, including dry ones. Though it is often called "Bush Honeysuckle", this plant is not invasive.
This native shrub, often used in mass plantings in a landscape bed or as a specimen, is one of the best shade tolerant shrubs, however, its color is more intense in full sun to part shade. To inquire further about how All American can incorporate this versatile specimen into your landscape, call the office at 402-408-0000.